A new version of Bforartists is ready. This release is mainly around tooltip issues.
I have added the tool name to the tooltips where possible. This one did really hurt my fingers, i had around 1500 entries to change, but it was important for the icon buttons. I have where possible separated tooltips for tools that has different functionality but the same tooltip. And where not possible, changed the tooltips to explain the both (or even more) involved tools. A few tools have new names now. Like Recalculate Normals, wich was internally formerly Make Normals Consistent. I have removed the Spacebar addon. The menu part of it did not longer fit. T the Bforartists menu diverges too much already from the Blender menu. New is also a stroke select addon, which can replace the Circle select tool in most cases. I have again removed a few double menu entries. And a few smalll issues and bugs gots fixed. All in all there are around 110 commits since Bforartists 0.4.0.
Further roadmap: first follows to update the manual. It has to be on the same level with the software. And then i will have a look for more workflow improvements. The parenting menu will for example surely find its ways into the tool shelf. And there are still some issues in the tracker left where i haven't found a solution yet. Some of them are bigger ones where i am not sure if i can even manage them. But i will continue to investigate.
More info can be found in the Release Note: bforartists.de/release-notes/
The download can be found in the download section: www.bforartists.de/content/download
The stroke select addon.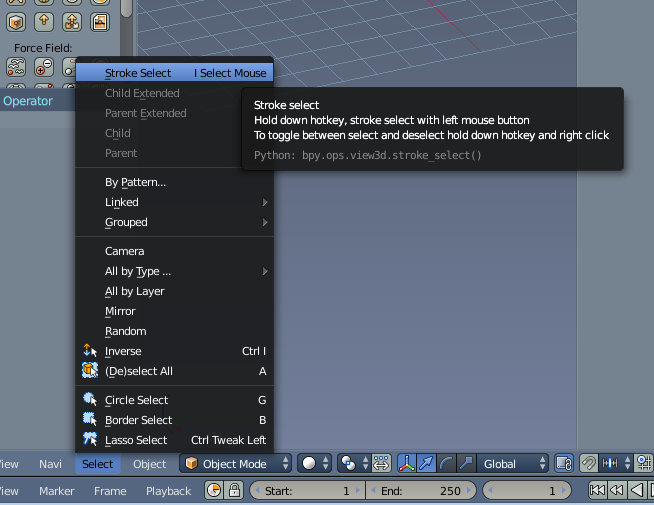 At the left side the old tooltip. At the right side the new, separated tooltip with a description that fits to the tool.